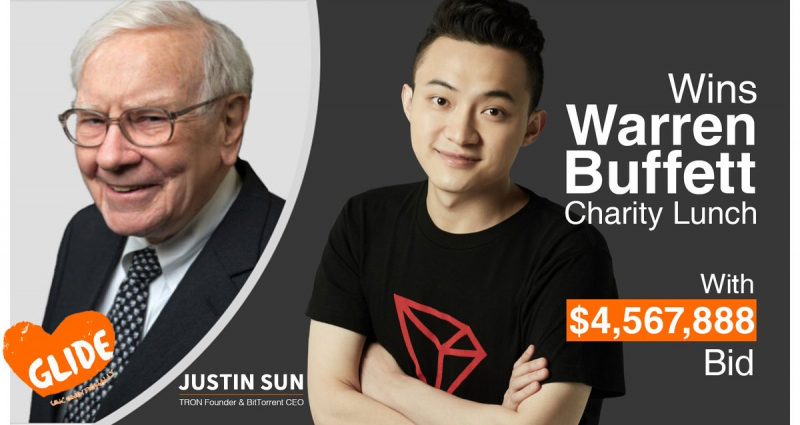 Many would argue that you cannot pay substantial knowledge and it would be priceless to have such. But if you had a chance to have a word with one of the best mind in the business industry, how much would it cost you and will you pay millions of dollars just to have a conversation with him thus picking up his brain in the process? Well, it just happened.
Last May 31, Warren Buffett an American business magnate, investor and CEO of Berkshire Hathaway had his annual bidding on eBay to determine the person who would go and eat a lunch with him. Proceeds of the said bidding will go to Glide Foundation, a foundation that helps the marginalized. And this year, it was a record breaking price.
Justin Sun, founder of cryptocurrency TRON and CEO of BitTorrent have announced that he won the bidding which costs a whopping $4.57 million to have a "power lunch" with Buffett who happens to be a doubter of bitcoin and was even quoted to have said that it is "a gambling device". This marks the second decade of the bidding which started in 1999.
In his post on Monday, Sun announced that he is looking forward for the lunch with Buffett and make him believe about the true value of cryptocurrency and said,
I'm a long-term believer (and certainly a big fan) of Buffett and his long-term value investing strategy. As some of you might know, the CEO of Berkshire Hathaway has said publicly he sees no 'unique value' in Bitcoin, the world's largest cryptocurrency
Sun recognized.
Yet, he has pointed to the potential in blockchain, the underlying technology behind all cryptocurrency, I look at the upcoming lunch with Buffett as an opportunity to seek mutual understanding and growth
he added.
The annual lunch is reported to be held In New York particularly in Smith & Wollensky (a high-end steakhouse). Justin Sun has the privileged to bring seven other friends and intends to bring industry leaders in the blockchain and cryptocurrency community.